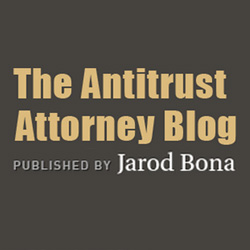 One year ago, I wrote my first blog post for The Antitrust Attorney Blog. Time flies. A lot has changed since then. When I started this blog, I was with DLA Piper. Now I am with a firm called Bona Law PC. DLA Piper is much bigger, of course. But Bona Law is a much more pleasant place to work. And it has a better name.
So, you might ask whether I have any observations about a year of blogging? Or whether I have learned anything during this time? As a Minnesotan might say, you betcha.
I like blogging. I've always enjoyed writing, as you can probably tell from my publications. But what is great about having your own blog is that you can write about whatever you'd like. I can say what I want when I want. I can write long articles or short articles. It is entirely up to me, not some list of editorial standards. My preferred writing style is not formal (or stuffy, as I like to describe formal writing). Luckily, the editorial board at The Antitrust Attorney Blog doesn't care. One other observation is that I have written less for other publications. That wasn't purposeful, but when I get an idea, I typically write it here rather than for someone else. I will probably continue to write law-review type articles for other publications, but most of my shorter stuff will end up here.