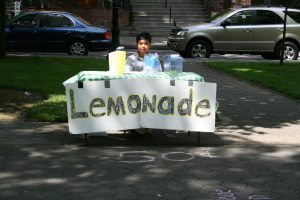 Bona Law filed an antitrust lawsuit on behalf of our client in the Northern District of Georgia alleging antitrust violations in the cement and ready mix concrete markets. More on that later.
But first I am going to tell you a fictional story about your nine-year-old son and his first entrepreneurial endeavor. If you don't want to hear about your son, you can skip to the next section, about Bona Law's new case.
The Lemonade Stand
You don't have a nine-year-old son? Well … you do for this story. Congratulations, it's a boy!
As you know, your son's name is Johnny. You call him Little Johnny, but he is growing so fast, you are not sure how much longer the "Little" will last. But you treasure these times because they grow up so quickly.
And speaking of growing up quickly, Johnny sure is maturing. You tried to get him to clean-up around the house for an allowance, but he turned you down. He said he doesn't want to be an employee and taking a job with you will just lead him into the rat race. Why would he want to do that?
Instead, Johnny says, he wants to start his own business. Ownership is where the money is, he says. Johnny wants to build cash flow, so he can just skip the rat race. Smart kid.
Okay, you say, "why don't you start a lemonade stand?"
Johnny is excited. This is his first business—his first taste of Capitalism!
"Yes, I'll build the best lemonade stand in the neighborhood, will serve the best tasting lemonade, and will be very careful with my costs, so I can charge a lower price and sell the most lemonade."
Apparently Johnny has been paying attention to the business podcasts you have been listening to in the car.
As you know, you just moved to a wonderful neighborhood in the San Diego area. After years on the east coast, dealing with the harsh weather and sometimes harsh people, you are excited that you are now in paradise. The weather is incredible all year here and the constant sunshine puts you in a great mood.
Of course, it is tough to move to a new area, especially for kids. Johnny is excited, but a little nervous. He doesn't know many kids in the neighborhood yet, and doesn't start school until the fall—it is still July.
You and he have both noticed, however, that the neighborhood has a few lemonade stands—and many thirsty neighbors—so this might be a good way for him to make some friends and get to know the neighborhood.
You help Johnny build a stand, but to his credit he does most of the work—his enthusiasm for the venture has produced a work ethic in him you've never seen. You also admire his efforts to plan out his purchase of supplies, opting for Costco so he can buy what he needs in bulk at a low cost per glass (as he explained to you).
Johnny now has everything ready for his business: a stand with an attractive sign, cups, a money box, raw materials to make lemonade, a cooler, a couple chairs for him and his friend (or you, when you want to stop by), and, most importantly, the joy of ownership from starting his own business. You've never seen him so happy.
You drive around the neighborhood with him and discover that other kids seem to be selling lemonade at $7 per glass, which seems a little high, but it is a wealthy neighborhood, so perhaps that is the market price? It has been a warm, surprisingly humid summer in San Diego. You discuss with Johnny how that weather pattern increases demand. Of course, it did seem odd to you that everyone was selling lemonade at exactly $7 per glass, but you dismiss it.