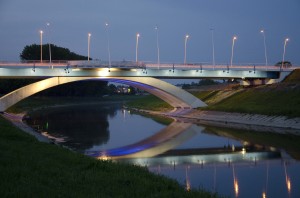 Author: Jarod Bona
As an antitrust attorney, over time you see the same major cases cited again and again. It is only natural that you develop favorites. Here at The Antitrust Attorney Blog, we, from time-to-time, highlight some of the "Classic Antitrust Cases" that we love, that we hate, or that we merely find interesting.
The Supreme Court decided National Society of Professional Engineers in the late 1970s—when I was two-years old—and before the Reagan Revolution. But the views that the author, Justice John Paul Stevens, expressed on behalf of the Supreme Court perhaps ushered in the faith in competition often associated with the 1980s.
The National Society of Professional Engineers thought that its members were above price competition. Indeed, it strictly forbid them from competing on price.
The reason was simple: "it would be cheaper and easier for an engineer 'to design and specify inefficient and unnecessarily expensive structures and methods of construction.' Accordingly, competitive pressure to offer engineering services at the lowest possible price would adversely affect the quality of engineering. Moreover, the practice of awarding engineering contracts to the lowest bidder, regardless of quality, would be dangerous to the public health, safety, and welfare." (684-85).
So price competition will cause bridges to collapse? I suppose the same argument could be made for any market where greater expense can improve the health or safety of a product or service. We better not let the car manufacturers compete to provide us with cars because they will skimp on the brakes. It is often the professionals–including and especially lawyers–that find competition distasteful or damaging for their particular profession and believe that they are above it. Well, according to the US Supreme Court, they are not.
Indeed, quite recently, in NCAA v. Alston (analyzed here by Steve Cernak), the US Supreme Court reaffirmed and applied National Society of Professional Engineers when it told the NCAA that if they don't like competition, they better go to Congress because, as of now, the Sherman Act applies to them and that law is predicated on one assumption alone: "competition is the best method of allocating resources" in the Nation's economy.