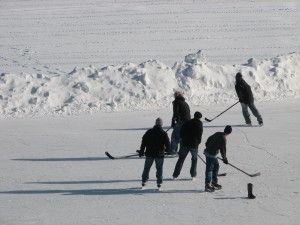 Here at The Antitrust Attorney Blog, we like to talk about competition. And what could be a better example of competition than Olympic Hockey. Mostly ignored by all but die-hard fans, hockey—Olympic style—captures the world's attention every four years, as we all become fans of this exciting sport.
Story lines are everywhere and history unfolds before our eyes, like it did on Saturday when the United States beat Russia in a wild shootout that went on and on. Not surprisingly, the hero from Saturday's exciting preliminary match, T.J. Oshie, is from a small Northern Minnesota town called Warroad.
As you might recall, even though my family now lives in beautiful Sunny San Diego, we are Minnesota natives. My wife, in fact, has many (and I really mean many) family members that live in Warroad, as well as neighboring town and hockey rival, Roseau, Minnesota.
The two towns are adjacent to the Canadian border, and hockey is kind of a big deal. I have traveled there myself several times. It is a long drive from Minneapolis, best experienced during the warm months. You might be interested to know that two well-run and successful companies also call the area home—Polaris and Marvin Windows.
T.J. Oshie isn't the first hockey star from these Minnesota towns. You might recall Neal Broten from 1980 Olympic fame, for example. Indeed, the area produces a disproportionate number of hockey stars.
Why is that? Well, it is exceptionally cold during the winter, and ice tends to freeze when it's cold and hockey is played on ice. I guess that's obvious. But it is more than that.
Hockey is part of the culture. Kids, and by kids I mean toddlers, start playing around the time they can walk. Parents and grandparents tell stories of hockey greatness, so you learn at a young age that hockey is a big deal. Sure, there are some talented hockey genes that have been passed from generation to generation (which reminds me that I should see if my three-year old son can skate).
But the talent is worth little without hard work and dedication, both of which permeate these two "hockey" towns. Minnesotans are hard-working people that wake up early, put in their work, and don't complain. It is just expected.
Combine talent, hard work, dedication, and a culture that celebrates hockey, and it is not surprising that an Olympic hero (or several) will emerge.
One final point: Many have commented on T.J. Oshie's ability to handle the pressure of the shootout, even with a smile on his face. We all handle pressure differently, of course, and that is often individual.
But it wouldn't surprise me if growing up where he did had a little something to do with that. It is one thing to play in the NHL where you have lots of screaming fans, most of whom you don't know.
But the pressure may be even greater growing up where hockey is king, and everyone you know (and you know the whole town) not only attends your matches, but really cares what happens. Everywhere you go, everyone you talk to, wants to discuss hockey. And when Roseau plays Warroad, it is kind of a big deal. Maybe bigger than Christmas.
That is pressure.
So, again, Congratulations to Warroad. They deserve this, as they work hard for it. Hopefully T.J. Oshie's heroics will help thaw—at least metaphorically—Minnesota's especially harsh winter this year.