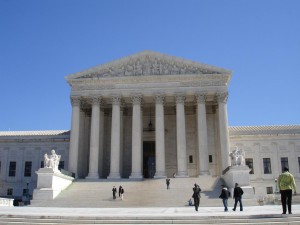 On March 5, the Supreme Court will hear arguments on whether the fraud-on-the-market presumption in securities class actions should survive. The case is Halliburton v. Erica P. John Fund and it could be groundbreaking. If the Supreme Court jettisons the presumption, it will close a major avenue for securities class-action lawsuits.
But what does this mean for antitrust lawsuits? We'll get to that in a moment.
First, some background: In 1988, the Supreme Court held in Basic v. Levinson that when a shareholder class sues a company under Rule 10b-5 (for misrepresentation, etc.), it need not show that the individual class members relied on the misrepresentations because the stock market is "efficient" and such statements are quickly incorporated into the stock price.
So if you purchased a share of stock after a management official said that the company increased revenue twenty-percent year-over-year even though the manager knew that the revenue numbers were not accurate, you purchased stock that was already inflated from the statements because the market incorporated those statements immediately into the stock price.
Remember the classic book, A Random Walk Down Wall Street? It is all about efficient-market theory. Great book, by the way.